Origin – Turmeric is a rhizomatous herbaceous perennial plant belongs to zingiberaceae family, and its botanical name is curcuma longa. It is believed that turmeric is originates from South or Southeast Asia. Turmeric Powder is a spice made from grinding the roots of the Curcuma longa plant, also called curcumin. It is a prime ingredient in curry powder and figures heavily in Asian cuisines. Because it imparts a vivid yellow color to the food it is cooked with, it is often used to color as well as flavor condiments, rice dishes and sauces. Turmeric's active ingredient is curcumin. It is thought to be an anti-inflammatory, as well as an antioxidant. Antioxidants are substances that are thought to help prevent aging by inhibiting the breakdown of cells by oxidation.
Classification
| | |
| --- | --- |
| Kingdom | Plantae |
| Order | Zingiberales |
| Family | Zingiberaceae |
| Genus | Curcuma |
| Spices | C.longa |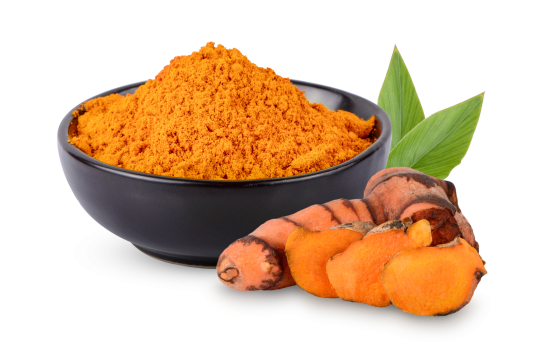 Food

Turmeric is a mild aromatic stimulant used in the manufacture of curry powders.
Turmeric is used in products that are packaged to protect them from sunlight.
The oleoresin component of turmeric is used for oil-containing products.
The Curcumin solution or curcumin powder dissolved in alcohol is used for water containing products.
Sometimes in pickles and mustard, turmeric is used to compensate for fading.
Turmeric is also used for coloring cheeses, salad dressings, margarine, yoghurts, cakes, biscuits, popcorn, cereals, sauces, etc.
Turmeric also forms a substitute for mustard in the cattle feed.

Medicinal

Turmeric is used for treating digestive disorders.
Raw turmeric juice is used to treat hyper acidity and indigestion.
The juice of raw turmeric also acts as a blood purifier.
Curcumin – an active component of turmeric, has antioxidant properties and so turmeric is used in alternative medicine.
Turmeric is used for cuts and burns as it is believed to have antiseptic effects and promotes healing.
Curcumin also has an anti-inflammatory effect by reducing histamine(hormone) levels.
The flouride present in turmeric is essential for teeth.
Turmeric also has a protective effect on the liver and also in atherosclerosis.
Turmeric can be used internally to assist with digestive problems and Skin complaints, circulatory disorders as well as tumors in the uterus and menstrual problems.
It is also indicated to help with painful menstruation.
It is used to treat Liver disease and Jaundice, as well as Colon Cancer,
It is Used as an anti-inflammatory for asthma and eczema, and to reduce the risk of stroke and heart attacks.

Cosmetics

The juice of raw turmeric is applied to the skin as a paste, kept for around thirty minutes and then washed off. It adds glow to the skin.
It is an essential ingredient of the traditional bathing ritual of Indian marriages where it is applied along with sandal wood paste before the bath.
It is believed that regular bathing in water containing turmeric reduces growth of body hair.
Regular turmeric use is said to make the skin fair, soft and smooth.
Turmeric is used for spots caused due to pigmentation or blotches and also for diseases like eczema.

Miscellaneous Uses

Ayurveda states that turmeric is poisonous for crocodiles. So anyone swimming in crocodile infested waters should apply turmeric paste to protect himself.
Turmeric is also believed to ward off snakes and the presence of turmeric plants around the house acts as a barrier for them.
The turmeric paste is used in Indian medicine for snakebites.
The leaves of turmeric are said to act as mosquito repellents.
Turmeric is used as a coloring agent for filter paper used in scientific tests.
It has been recently discovered that in water cooled type of radiators, a spoonful of turmeric added to the water, plugs any leaks.